Hard Drive Docking Station
$49.99
$99.98
SAVE

$49.99
PRODUCT DESCRIPTION
It is an excellent tool!
Characteristics:
Save time.

 It is not necessary to install the drive in the computer case or install it in the case.

 

Easily change discs. through design to top-loading a disc eject push button and a separate power button.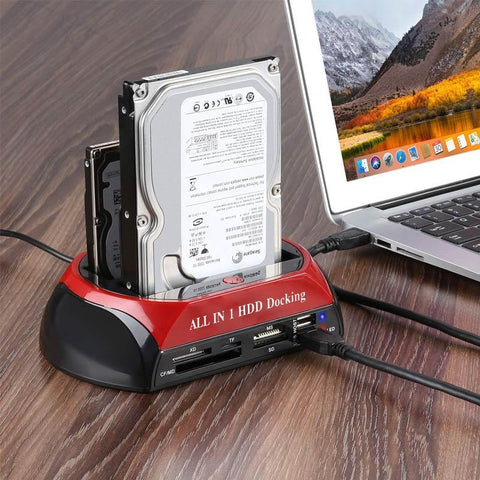 Built-in protection against over-current, over-voltage, short circuit, and electrical leakage to ensure stable and secure data transmission.
For use with a range of data interfaces, including legacy (eg, IDE) and consumer (eg, USB 2.0).
Increase productivity with pass-through USB hubs and fast charging features.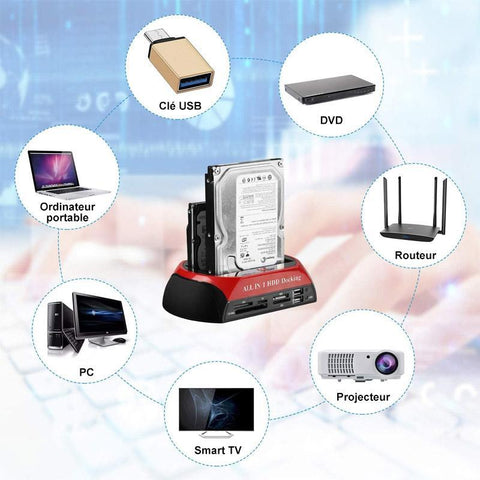 Support all 2.5 "/ 3.5" IDE / SATA I / II / III HDD and SSD, IDE support up to 2TB, SATA support up to 8TB.
Plug & use, hot-swap capability for quick access and swap of multiple hard drives.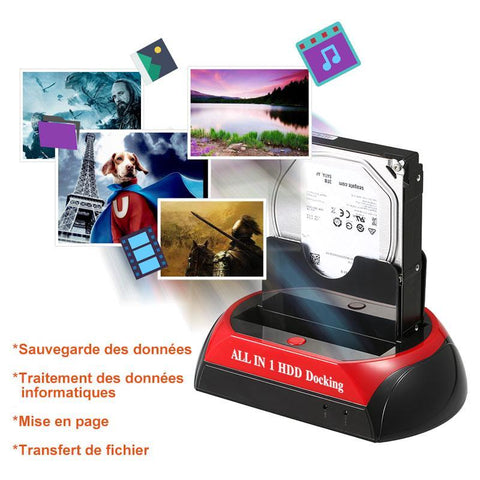 Specifications:
Support capacity: 

2T

Weight: 473g
Size: 180cm * 110cm * 97cm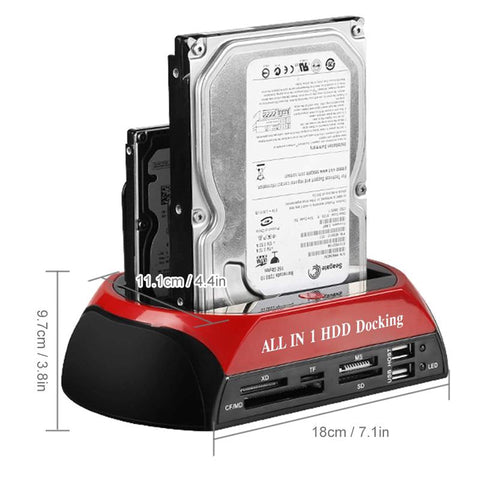 Compatibility:
Applicable hard disk

2.5 "IDE Laptop Hard Drive

3.5 "IDE Desktop Hard Drive

2.5 "SATA Laptop Hard Drive

3.5 "SATA Desktop Hard Drive
How to use :
Steps for using the hard drive
Connect power to the DC12V interface of the product

Connect USB or eSATA cable to USB / eSATA interface

Insert 3.5 "/ 2.5 hard drive "vertically down into the groove of the hard drive bracket, and confirm that the hard drive power interface is connected to the power socket, and the IDE power interface is not correct, please Move the power adjustment button at the bottom of the hard drive bracket

Turn on the power switch, when the hard drive appears in "My Computer", it can be turned on and used

Memory cards and U disk storage devices can be used when the power is on, eSATA interface only supports SATA hard disk
Steps to exit and issues needing attention
Turn off the hard drive carrier power switch

Gently pull out the hard drive vertically upward
The package includes:
1 * Hard Drive Docking Station